In general when we think of a "roof tent" for a car, it is a van, SUV or even a small car that comes to mind … Few people imagine themselves driving a large German sedan, with a tent on the roof … from now on Porsche owners, while driving their cars, will be able to experience the life of a nomad, and Convert their sports car into a hotel room… Porsche Techequipment just launched its new roof tent that fits 911, Macan, Cayenne, Taycan or Panamera… Marketing is scheduled for November 2022 and other accessories will follow… Who says Porsche and camping are incompatible? Discovery.
What is the new Porsche roof tent?
This roof tent was developed in the development center in Weissach and designed jointly with Studio FA Porsche in Zell am See. It is equipped with a Porsche-exclusive sealed hard luggage that allows it to be installed on five models of the brand with or without roof rails … Inside, two people can sleep comfortably, and it has two windows. Side windows and a roof window to fall asleep with your head in the stars. When the roof tent is ready to operate, it provides a ground surface of 2.10m by 1.30m, and Includes a comfortable polyfoam mattress (extruded polystyrene), high density. The walls of the tent are made of a breathable cotton blend, waterproof zippers, and an entrance rain cover that protects passengers from rain. So the tent can easily be used as a shelter even when the sun is not shining…
What are its strengths?
A Porsche roof tent is what we would call a luxury tent of course…so it has a highly insulated quilted liner and is outfitted with attractive "mountain" trims, just like the mattress, for aesthetics. In addition, the two side windows can be fully opened for ventilation and an insect protection barrier has been installed … So it protects you from mosquito attacks and light ! In terms of assembly, it will be very quick, since it will only be necessary to open the safety latch, then lift the hard case and open it thanks to two gas pressure shock absorbers. The floor space is then opened and secured using an integrated telescopic ladder. You then have to stretch the tent using the four poles.
Technical specifications and price…
L x W x H (folded): 146 x 140 x 33 cm.
L x W x H (Extended): 258 x 257 x 118 cm.
Weight: about 56 kg.
static load limit: approx. 190 kg (vehicles with roof rails) or approx. 140 kg (vehicles without roof rails).
Maximum speed with roof tent installed: 130 km/h.
Available in two colors: black / light gray and black / dark gray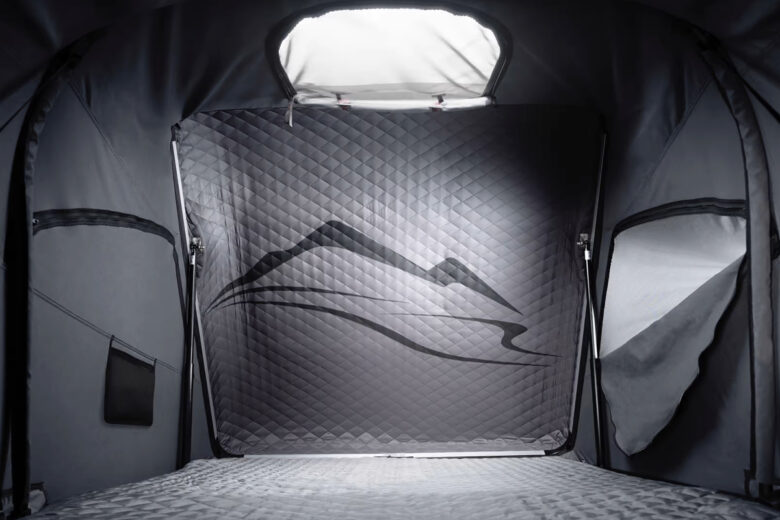 So you will have to choose between driving quietly because you will not be able to exceed 130 km / h, which, as we remind you, is the maximum speed allowed on the motorways in France … Porsche will add accessories such as an indoor tent in the future year. And the electric blanketShoe and bag organizer. As for its price, it is 4,980 euros, which is a large price, but there was no doubt about it. Delivery is scheduled for November 2022 and you risk simulating your Porsche and its roof tent, installed in a camp site or roadside at night…More info: newsroom.porsche.com
#Porsche #unveils #rooftop #tent #turn #sports #cars #camps